Picture a classic summer barbecue: grilled meats, indulgent side dishes, fresh fruits and vegetables served in a picturesque outdoor location. Now imagine that instead of beer or margaritas, everyone's sipping on an ice-cold glass of weed-infused lemonade, rimmed with a mix of sugar and ground marijuana leaves. Then, if you can, imagine that each delicious dish, from the meat to the mac and cheese to the veggies to the fresh fruit dessert, is also dosed with a gentle serving of cannabis. This was the scene at chef Holden Jagger's CannaBBQ, held at an oceanside condo in the Pacific Palisades section of Los Angeles and filmed for Jagger's new weed-centric cooking show, Altered Plates.
While the burgeoning field of marijuana gastronomy has already given birth to delicious recipes like the "stoney Negroni" and weed-infused gelato, it hasn't yet launched the careers of any Jamie Olivers. Jagger — who has worked in the kitchens of a number of acclaimed L.A. restaurants, including Craft and Soho House — wants to change that, by combining his passions for cooking, gardening and cannabis into one complete package. "There's a sort of farm-to-fork aspect of it all," Jagger explains—although the farms are just as likely to include a marijuana greenhouse as an apple orchard. "Every restaurant I've ever worked it is about sourcing local food, and I thought that, well, if we're going to do a cooking show, it should really have these gardening and educational aspects to it."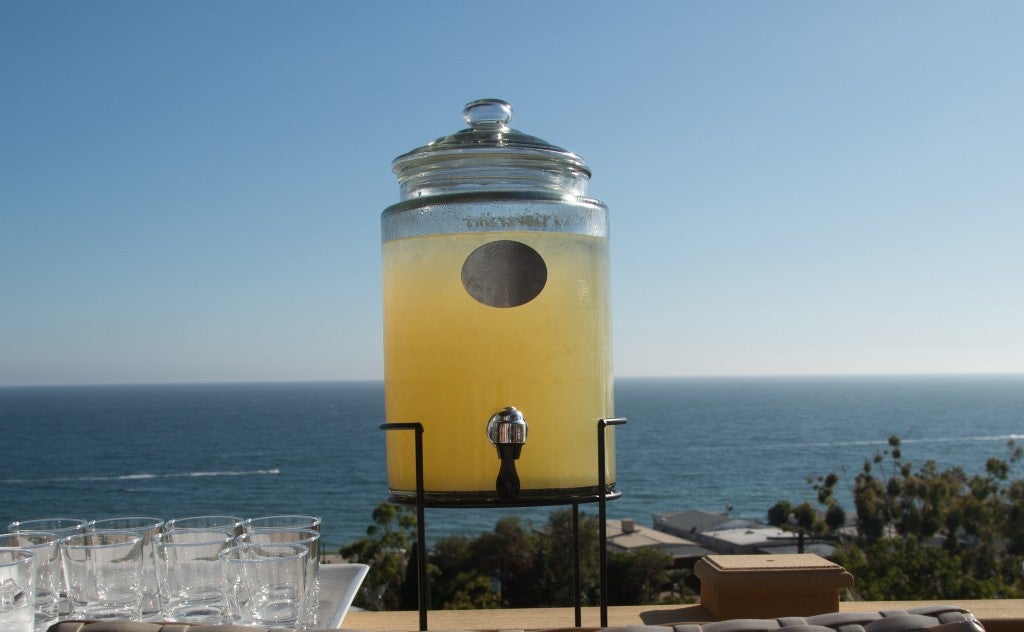 Some episodes will focus entirely on gardening, harvesting and curing marijuana. Others, like today's, focus on entertaining that combines marijuana and food. "My training is as a pastry chef. I like to make people happy, so that's why we incorporated the hospitality side into a few episodes," Jagger explains.

Part of the challenge is finding the exact right amount of happy without making people too, um, "happy." The goal of the CannaBBQ is not to get guests fucked up, but to make us feel terrific in a multitude of ways (although our host did graciously leave out a jar of joints). The lemonade, for example, was just barely infused with only two milligrams per serving, which meant it was sublimely drinkable. The appetizers — prosciutto-wrapped melon balls, goat cheese-stuffed figs drizzled with honey and black pepper, and crostini topped with avocado ponzu mousse and a fried cannabis leaf — contained no psychoactive ingredients.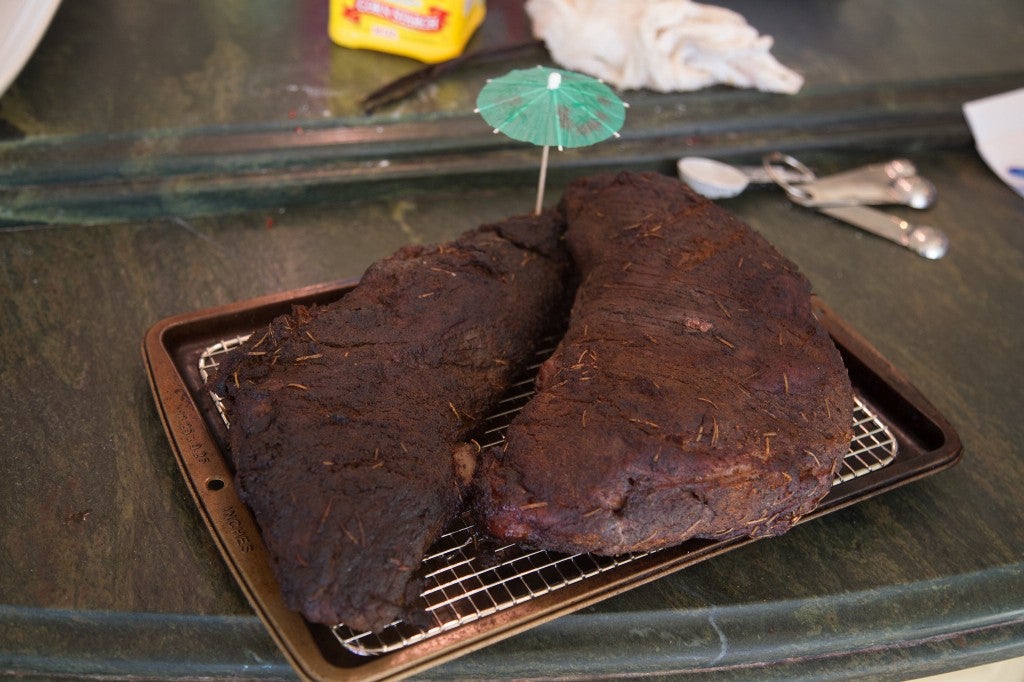 Jagger gave me a sneak preview of what was coming for dinner as he browned the top of the mac and cheese with a vaporizer heat gun and explained that he didn't want to put the whole thing back in the oven since THC loses potency with prolonged exposure to high temperatures. I watched him mix peaches and raspberries with infused butter and sugar in his great-grandmother's massive cast iron skillet in preparation for a cobbler.
When it was time to eat, Jagger explained that altogether there were four different dosed dishes, each of which contained about 10mg per serving, so by the end of the meal we'd have taken in a comfortable dose of about 40mg. Chef Jagger works closely with one of the other guests, Pete Ludovice, Altered Plates' resident cannabis scientist and an associate professor in the School of Chemical and Biomolecular Engineering at Georgia Tech, to get the dosage as accurate as possible.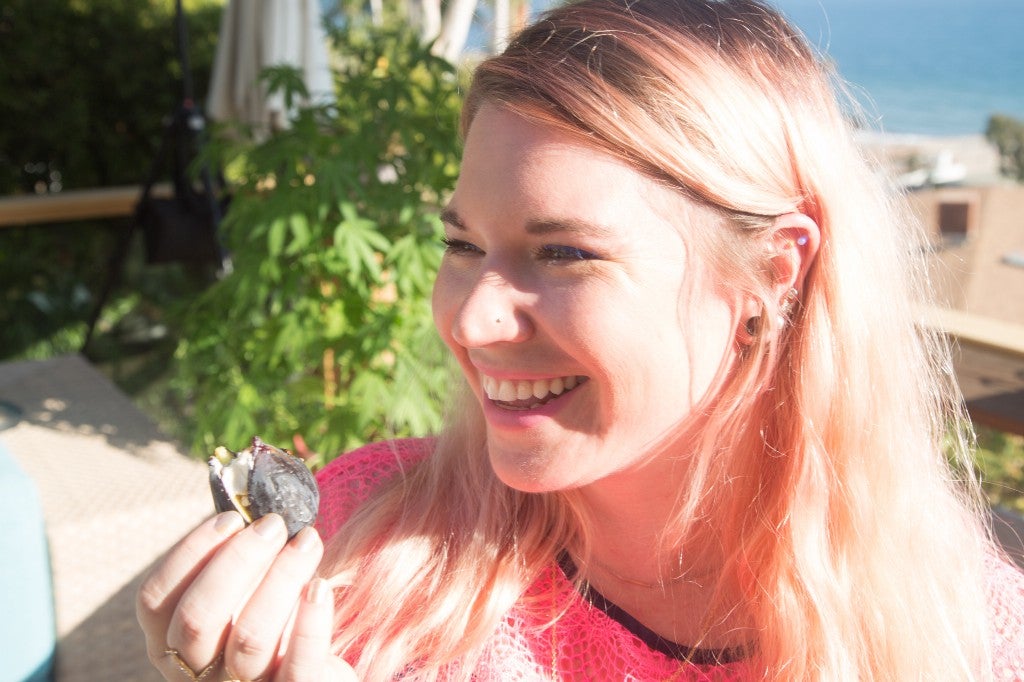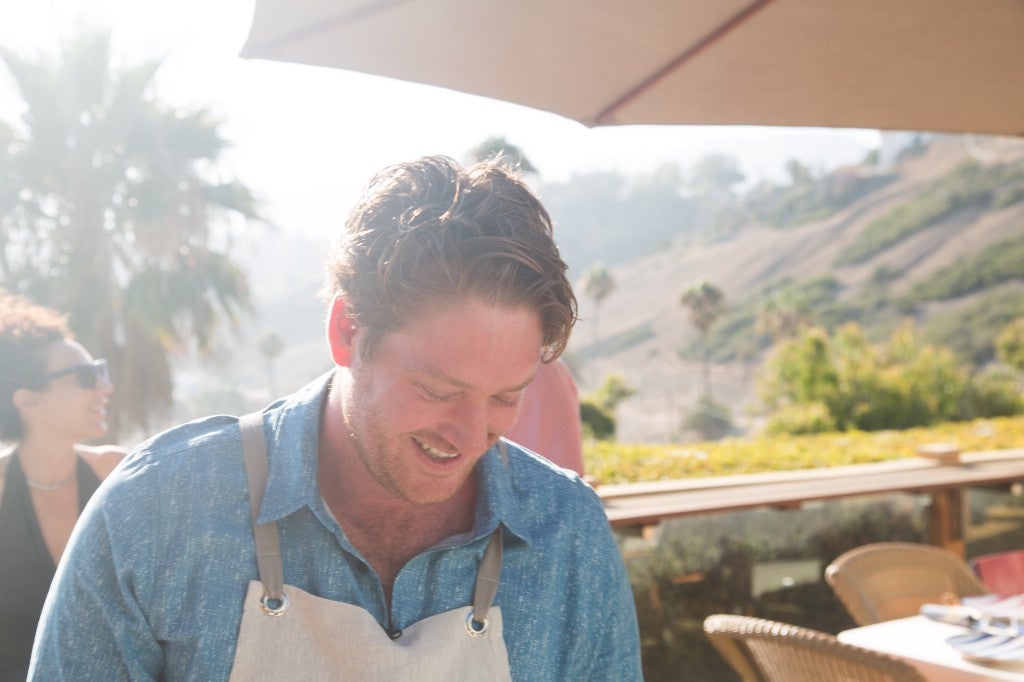 The food was served family-style and all at once and included an absolutely perfect medium-rare tri-tip with a weed-infused turbinado sugar-and-spice rub, mac and cheese with a weed-infused bechamel sauce and Mexican street-style corn on the cob with weed-infused aioli and cojeta cheese. To balance out the richness of the dosed dishes, there were two non-infused salads — arugula with shaved parmesan and a refreshing watermelon, feta and mint salad. (There were marijuana-free options for all of the dishes, but I went back for seconds on the infused mac and cheese because that's how I do.)
The experience of the meal itself was just exquisite. The sun slowly set over the Pacific as I talked with Jagger and one of the growers about cultivation techniques and Jagger explained how he pairs different strains with different foods — using a bold OG Kush for the steak rub, for example, but a lighter, more citrusy strain like Jack Herrer to infuse seafood. It was truly the definition of next-level shit, and even more so when dessert arrived: the weed-infused fresh peach and raspberry Southern-style cobbler with homemade whipped cream.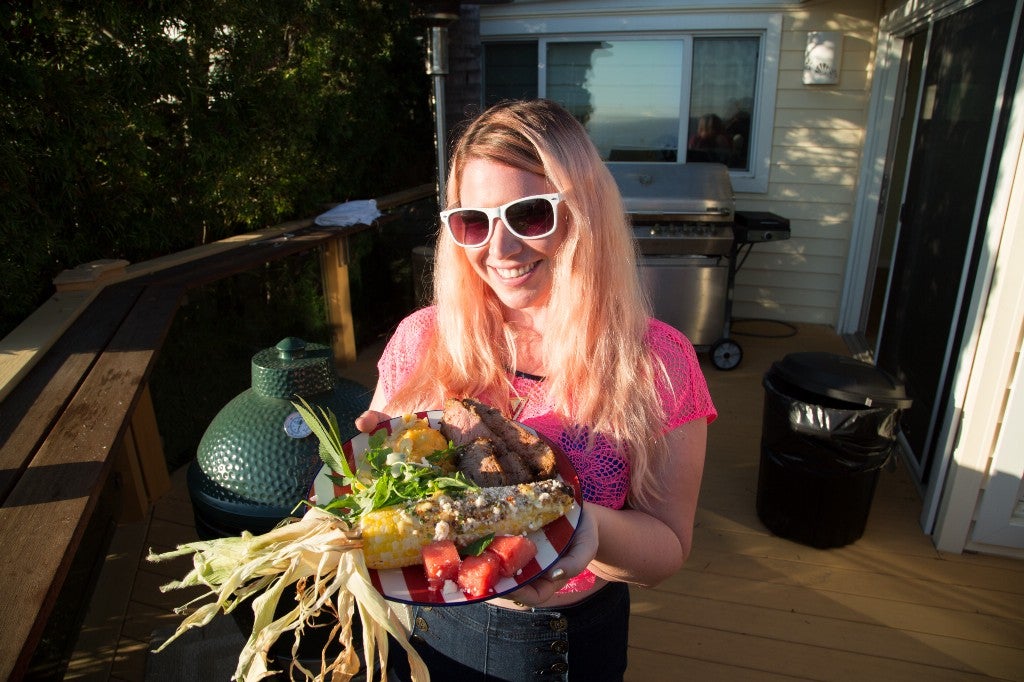 Karen Moneymaker, managing editor for The Clever Root, a magazine that connects cannabis, food and wine cultivators, brought an incredible golden Sauternes to pair with dessert. Not only was it the perfect wine to have with peaches and raspberries and pastry, but the end of the meal was the right time for a little bit of alcohol. Booze and buds don't always mix so well, but, like everything else on the table, its inclusion was purposeful and clearly thought out for the maximum enjoyment of the party.
By the time the great big gorgeous cobbler came out, everyone was definitely at least a little high, but no one was completely off the rails. There was a little more laughing; people started to open up and tell more personal stories. I wowed the table with the tale of the time I ate a 7-gram weed-and-raspberry-hash-jam cookie (yes, that's essentially a quarter-ounce of weed), which is not an experience I usually share in mixed company. This was where the idea of cannabis hospitality really came to fruition: Getting high brings people together and so does sharing a meal; and it just makes all kinds of sense to combine the two. We were strangers when we arrived, but by the time we left it was hugs and well-wishes all around.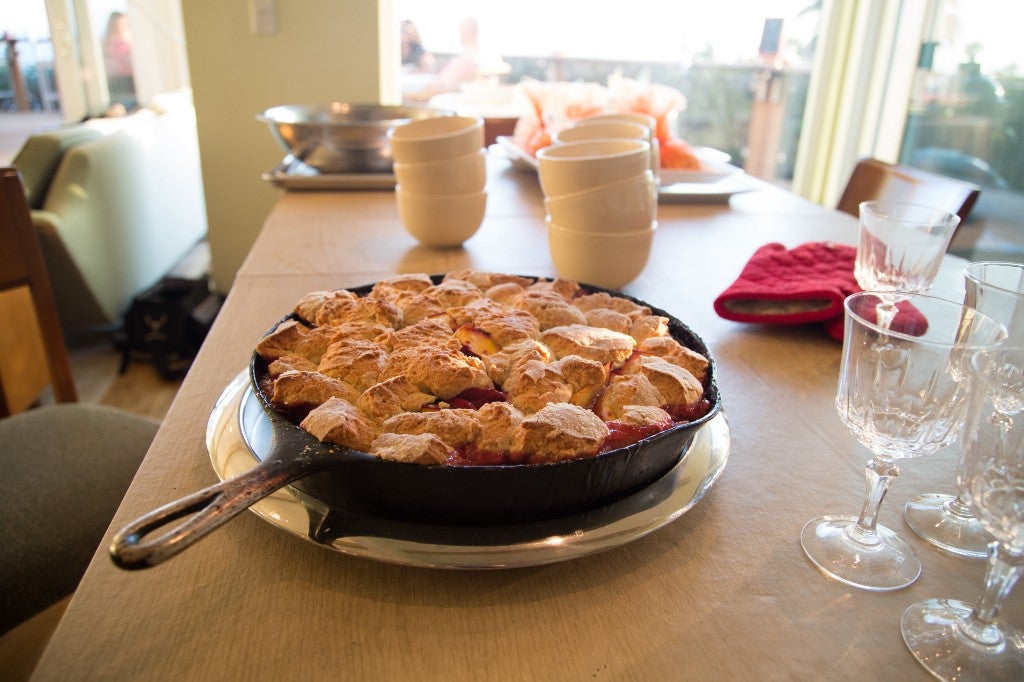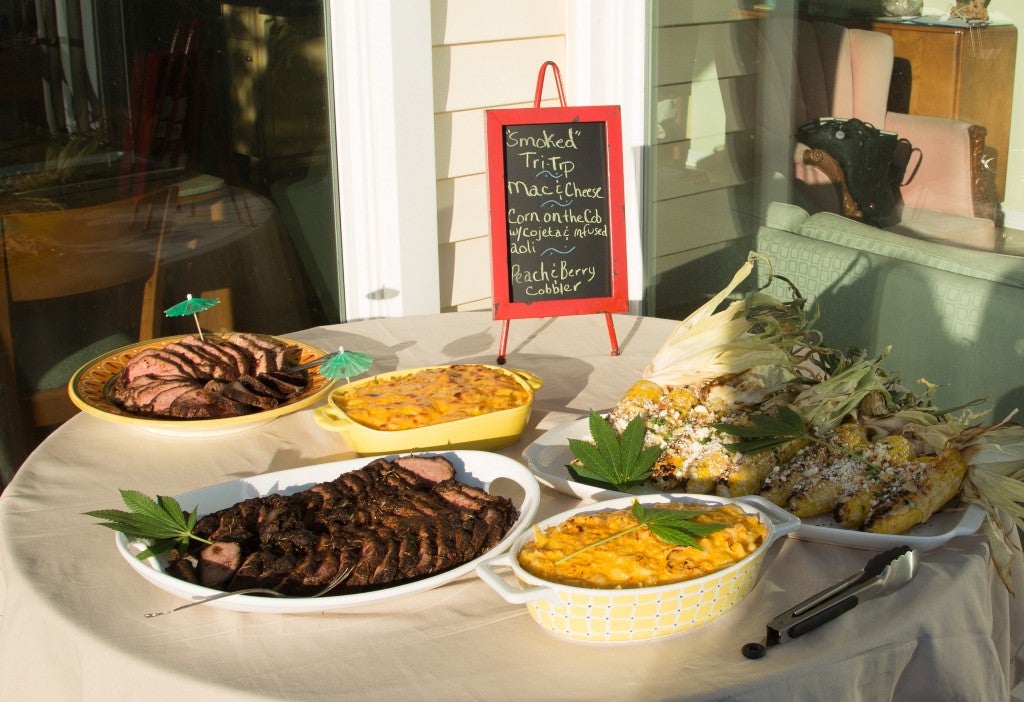 After the plates were cleared and the sun had set, we passed a joint around the table. "A digestif," Jagger called it. Our voices got quieter as our laughs became louder. I clutched my gift bag of medicated caramel corn as I waltzed out the door and into the night; rarely have I felt so completely satiated in mind, body and spirit.