Men, I have a tip for you. If there's one thing on the internet to skip entirely, it's this — a BuzzFeed-made video with "tips" on how to masturbate.
"Cut a hole in a bar of soap!" it says. "Fuck that hole!" it says.
As little faith as we should have in the state of humankind, I hope that we can all agree that what's being done here is a bad idea all around.
But you were probably too busy celebrating the Cubs big win last night to even bother with masturbation, right? If anything brings out the heartwarming dad stories, it's ones about your dad being a diehard X-fan and finally(!) X wins and your dad is redeemed. Or, maybe something like this (cue sobbing):
Cubs Fan Listened to World Series Game at Father's Grave: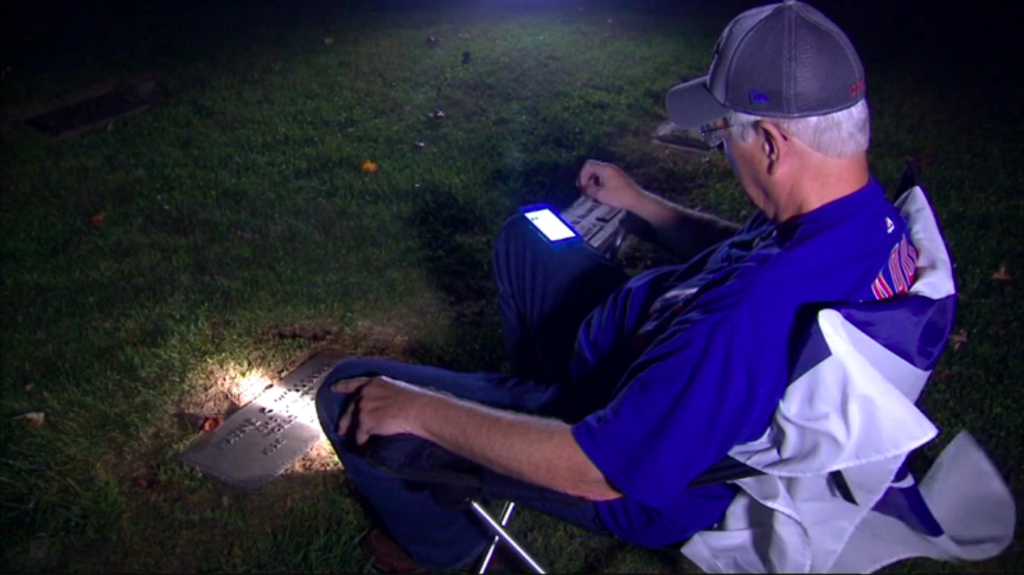 Heartwarming video shows son surprising dad with World Series tickets at Wrigley Field:
Cubs fan celebrates World Series win by opening 32-year-old beer:
Dry those eyes! Let's see what all the other dudes are up to this week.
They're… meeting their BFFs on Bumble:
After going out with some duds ("We met up and he was fine," Crouse sighs, recalling one guy, "but I just didn't really… you grab drinks with somebody and you can tell pretty quickly, like, do you want to hang out with them again? And I was like, 'Nah'"), he matched with Jack, a fellow Brooklynite, and invited him to grab a drink with a group of his friends at a dive bar in DUMBO. Their connection was undeniable. "It felt very natural. And I think that was one of the keys," Crouse says. They talked about movies, their girlfriends, what they were watching on Netflix. "It wasn't really like we were meeting for the first time in that it was going to be a burden to get through conversation. It kind of just went smoothly."
They're…Glamour's first man of the year:
When humanitarian and rock icon Bono learned that he was being honored by Glamour as the first-ever Man of the Year, he called his wife of 34 years, Ali Hewson, to give her the news. "I asked did she think I deserved it. She wasn't sure," Bono tells me with a laugh. "She said I've work to do!"
They're… setting the bar lower for male politicians:
In experiments, women candidates who were viewed as competent did just as well as men who were viewed as competent. However, voters had different standards when judging incompetence. They were more forgiving of men than women who appeared incompetent, says Tessa Ditonto, assistant professor of political science at Iowa State University.
They're… saying a woman will never be Pope:
But when he was asked and then pressed on the matter by a Swedish journalist during a press conference onboard the papal plane, Francis suggested the ban would be eternal.
"Saint Pope John Paul II had the last clear word on this and it stands, this stands," Francis said in his initial response, referring to a 1994 document stating that women could never join the priesthood.
They're… sticking paper clips into their ears to get rid of ear wax:
Any licensed Ear/Nose/Throat doctor will tell you it is foolish to stick things in your ear. Okay, if you insist, here's a quote from one: "When I read about you putting a paperclip in your ear," says Dr. Steven Alexander in an email reply to an inquiry about my method, "I visibly winced and thought, 'Please don't do that.' The skin of the ear canal is delicate. Even rubbing it with a Q-tip is enough to cause micro-abrasions (and not-so-micro-abrasions, a.k.a. lacerations) that can subsequently become infected. And ear canal infections are often grown-adult-in-tears PAINFUL. Which is the main risk of trying to clean your own ears with various implements."
They're… wimping out on male birth control because of side effects:
But the birth control shot won't be coming to your local pharmacy anytime soon — the trial was stopped early. Why? Twenty of the 320 men (just 6 percent) dropped out of the study because the injections gave them mood swings, made them depressed, and made them break out, so the researchers decided to go back to the drawing board. This wasn't the last trial necessary before the drug went to market, but a speed bump at any point along the road to availability can stretch the already-slow approval process down even further.
Keep it up!